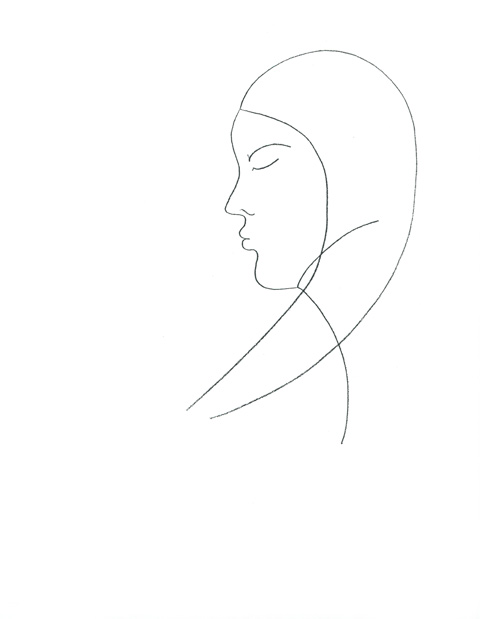 TRATANDO DE ESTAR CON ÉL (Attempting to Be with Him)
1993. Pencil on Paper. 18×28 cm.
The puckered lips: a kiss that may be the only one that she will ever experience. A meditative situation, not an erotic allurement: a kiss from thought to thought, a kiss to be absorbed. She feels that Jesus is with her.
The movement of the lines reveals her spiritual evolution: a few (the neck, the collar under the chin) go toward the right but the more notable ones (the two curving lines that imply the veil) sweep toward the left, toward the empty space. Whatever might have interfered within to impede her calling ends up orienting itself in His direction.
Another level: in a state of concentration, she has encountered herself. This inner contact has led to an act destined to change her existence entirely. She knows what fits her and what does not. A moment of obvious limpidity becomes enshrined in what could be a figure belonging to a stained-glass window.
An extreme economy of design lends a general impression of serenity.